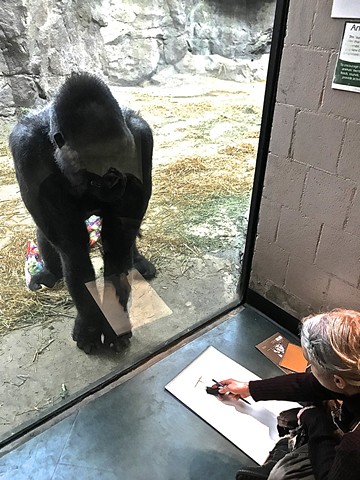 In 1994, I began routine visits to draw Western Lowland Gorillas at Zoo New England's Franklin Park Zoo in Boston with an open curiosity about apes, animal behavior (including humans) and simply a desire to draw from life. I sit at the gorilla habitat for the day with 22"x 30" paper and charcoal for a minimum of 4 hours.  The habitual practice of drawing these gorillas at The Franklin Park Zoo has come to serve as a ritual or an act of worship for me. It has been my practice for almost three decades. I refer to it as The Ape Drawing Project.
Certain paintings I make represent a recognizable likeness to a specific gorilla or reflect an individual's personality. The gorillas feel so familiar; I see many parts of myself in them.
My experience observing through drawing and the zoo setting is particularly important because it is the inspiration and source for all of my art. As I draw, I am a silent observer of the zoo visitors and often they observe me as if I am another ape on exhibit. It adds an important sociological component; the zoo experience as a metaphor to discuss larger cultural ideas including animal nature versus human nature, my self-conscious attention to class and the concept of observation as entertainment.